| | |
| --- | --- |
| | November 2016 |
QUOTE OF THE MONTH:

"Science knows no country, because knowledge belongs to humanity, and is the torch which illuminates the world"

Louis Pasteur (27 December 1822 - 28 September 1895)
French chemist and microbiologist who was one of the most important founders of medical microbiology. Pasteur's contributions to science, technology, and medicine are nearly without precedent. He pioneered the study of molecular asymmetry; discovered that microorganisms cause fermentation and disease; originated the process of pasteurization; saved the beer, wine, and silk industries in France; and developed vaccines against anthrax and rabies.
SOURCE: www.britannica.com
Edith Cowan University (ECU) Rowe Scientific Research Fund Award.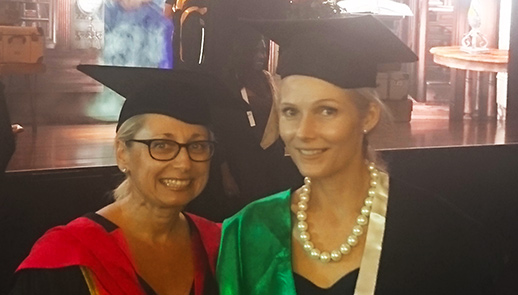 Dr Magda Wajrak (left) presents the above to Mrs Sam Ridgway. The award will assist Mrs Ridgway in writing up two journal papers from her 2015 Honours work. Her project involved developing an accurate, simple and infield method for the detection of barium in various samples using voltammetry. The barium method has application for environmental, ground water and gunshot residue samples.
| | |
| --- | --- |
| Every purchase of Rowe Quantumclean (CQ1050, CQ1000, CQ1100) and pH buffers (CB3515, CB3115, CB2660) in the unique twin neck bottles, results in a $2.00 per item donation to the Royal Flying Doctor Service. | |
Did you know?

For those customers located in Western Australia and Queensland, our technicians can come to your laboratory. Whether metropolitan or regional we will travel to repair, maintain or calibrate your equipment.

We also offer cost efficient service plans to keep your laboratory instruments operating.

Whether or not your instrument is in or out of warranty, we provide professional technical services to diagnose and report on solutions to help keep you running.
CLEVER PERSON'S QUIZ:

Question:
How many currently living people have an element named after them?

DID YOU KNOW? (Answer to last quiz)
Question: What is the most abundant protein on earth?
Answer: Ribulose biphosphate carboxylase-oxygenase (Rubisco), an enzyme involved in carbon fixation that constitutes up to 50% of the protein in the chloroplasts of plant cells.

Knox et al., (1994), Biology, McGraw Hill Australia.

WE SUPPLY CERTIFIED REFERENCE MATERIALS & STANDARDS

High Purity Standards
CANMET® (Canada)
SARM® (S.Africa)
NIST®(USA)
BAS® & IGS® (UK)
SEISHIN®
Rowe Scientific Pty Ltd introduces Whirl-Pak Sampling bags
Invented in 1959 and manufactured in the USA at a facility certified to ISO 9001, Whirl-Pak® bags were the first sterile laboratory sampling bag on the market and continue to be the world leader in sample collection. Whirl-Pak® bags can be used for the sampling of liquids, solids, and semi-solids across many different markets including food & beverage, dairy, water treatment, environmental, veterinary, microbiology and more!
Whirl-Pak® bags are made from a co-extrusion of low-density and linear low-density virgin polyethylene which provides the bags with exceptional clarity and strength. The bags feature patented puncture-proof tabs which eliminate sharp wire ends from puncturing the bag or gloves.
The bags also go through a separate sterilization process after manufacturing using ethylene oxide gas at an independent ISO-certified facility.
Compared to bulky, expensive and non-sterile containers, a box of Whirl-Pak® bags take up less storage space, cost less to ship, are easier to label, have an integrated closure system, are unbreakable, and are guaranteed sterile - negating the need to spend time and money washing and sterilizing!
To find out more or request samples, contact your local Rowe Scientific Pty Ltd Office.

Save 15% off European quality made MMM ovens.
Rowe Scientific Pty Ltd is now your local Australian supplier of MMM Ovens and Incubators, and to celebrate the new line we are offering INCUCELL® and VENTICELL® products at reduced prices whilst stocks last.

The INCUCELL® incubator line is suitable for the safe treatment of microbiological cultures, produces no noise and provides very soft air convection within the chamber. Also available, the INCUCELL® with a fan, has the advantage of a precise temperature distribution with only small deviations. These devices can be used for biological and microbiological laboratories, quality tests in the pharmaceutical and cosmetic testing industries and for veterinary medicine and food processing.
The VENTICELL® range of laboratory drying ovens feature a patented ventilation system whereby the air is circulated in a uniform spiral pattern.
This feature allows a homogenous temperature profile throughout the chamber with short heating times. Especially efficient with very moist goods, the VENTICELL® 's precision heating makes it a very reliable and economic unit.
The VENTICELL® Standard Line with Microprocessor Control Unit has three adjustable programs, RS232 computer and printer interface as well as a visual and acoustic alarms.
The Comfort Line with Multi-functional Microprocessor Control Unit VENTICELL® unit offers six adjustable programs, a chip card system for individual program storage and selectable temperature increases and decreases (RAMPS) and time segments (SEGMENTS).
Call your local Rowe Scientific office today to discuss your oven and incubator needs.

New South Wales
Countdown to the end of year another year!
Difficult though it may be to believe, we are well and truly counting down to the end of yet another year. While the new financial year started slowly, as anticipated momentum has grown on a week by week basis and we are looking forward with your support, to a very strong end to the calendar year.
Rowe Scientific NSW continues to go from strength to strength with a growing customer base and an expanded range of products available ex stock from our Sydney warehouse for immediate delivery.
The growth has created opportunities within our team and we are currently seeking to appoint an additional customer service representative and store person to join our Minto office. If you or anyone you know has the appropriate skill set and commitment to putting the customer first in everything they do, then get in touch and it may be the start of a beautiful partnership!
Thank you for your continued support. We both value and appreciate you choosing Rowe Scientific as your supplier for routine and non-routine laboratory consumables and instrumentation.
Rowe NSW TEAM.
Queensland
Dear Clients,

Business has been brisk in the past few months and we thank you for your continued support. We are rapidly moving towards the end of the year, so now is a good time to review your stock levels especially for imported products.
If there are any products which are critical to your daily operation, please let us know so that we can ensure we will have enough stock on hand for the December/January period, as imports in particular slow down over this time, as many overseas manufacturers and suppliers close for their annual break.
In October we attended the ComBio Symposium for Biochemistry/Molecular Biology. Our stand, manned by Martin Bullock, was visited by many University staff and students, giving us plenty of opportunity to demonstrate our range of products.
Reminder: Are you doing Nitrogen/Protein Analysis? We have an excellent Velp NDA Analyser using the Dumas method in stock. Please contact our team to arrange a demonstration.
Queensland team: Yvonne Dive, Martin Bullock, Brian Bishop, Sean Wyatt, Josephine Cabagui, Leon Dive, John DeRuyter, Steve Taylor, Adam Bergman and Colin Silk.
South Australia & Northern Territory
Greetings from the South Australian Team,

Let's hope the last of the wet, windy and wild weather is behind us. Some areas have experienced their wettest winter in 50 years with many areas experiencing flooding.
I spent some time touring the Griffith wineries with my Sydney colleague Kendall Parsons. Thank you to all of you who may read this for your hospitality and your time. It was also most certainly very wet over there but thankfully we completed our tour just before too many roads were closed.
We have had a new member join our SA team. Daniel Girardi joined us four weeks ago and is progressing nicely. Daniel Spano and I will be bringing him along to meet clients over the coming months.
Our new Vintage Catalogue is in production at the moment and will be distributed soon. I am also pleased to announce we are now an official distributor of Vintessential Science Enzyme Kits for the winery industry.
All the best from, Doug, Steve, Mark, Michael, Daniel S, Paula, Goldy and Daniel G.
Victoria & Tasmania
Dear Clients,

Spring beckons our two most southern states with temperatures ranging from 10 to 34° and flood levels to 7.5m. Football now completed, it is time to upgrade and / or restock the lab, before the cricket season gets into full swing, just contact us or try us on-line.
Our website continues to improve, with your login you can access updated pricing and stock levels both local and country wide. Look for our specials as they change regularly.
Have you tried placing an order on line? It's easy, and our quick order function can remember your favourites for next time. Misplaced your login? Click, contact us or shoot us an email.
Keep an eye out for our November specials, Whirlpak bags for sample storage, Mettler balances and pH meters, they are bound to save you money.
Hope to hear from you soon.
Your team in Victoria, Garry, Mango, Nic, Daniel, Adam, Brian and Amanda
Western Australia
Greetings from the Western Australian Team,

Thank you for supporting and telling others about our new web image. I know you are doing this because of the steadily increasing value of our web orders and the many enquiries we receive daily to open a new Rowe Scientific Web Store Login account.
For all of you who like wine and are involved in controlling its quality, I am pleased to announce our latest distribution agreement, just signed with Vintessential Science (VS). We looked at the best kits in the market, approached VS, and were thrilled when they agreed to partner with us. For more information please click on the enzymes icon on our "Products" page on the web.
The newest member of our Perth team is Sarah Quaglia who some of you would already have spoken to. Sarah has a Bachelor of Science from UWA and joins our Internal Sales team.
Thank you for your past business and we look forward to your future orders.
The WA Team.
We sent out this message to all existing Rowe Scientific Pty Ltd customers. As a way of keeping you informed of special offers and company news.
©2016 Rowe Scientific Pty Ltd. All rights reserved.