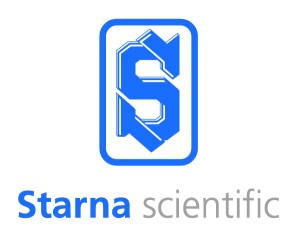 Email our Starna Product Manager
Starna® Certified Reference Materials, spectrophotometer cells / cuvettes and optical components enjoy a worldwide reputation for quality, service and reliability.
All manufacturing processes are carried out in an ISO 9001 certified production facility. Starna is accredited to ISO 17034 as a Reference Material Producer, and the scope of the Calibration Laboratory's ISO/IEC 17025 accreditation is the widest in the industry. Starna Certified Reference Materials are calibrated with full traceability to National Institute of Standards and Technology (NIST) primary standards in the USA, or to other National Metrological Laboratories (NMIs), where applicable.
Is your Spectrophotometer fit for purpose?
In a regulated environment, the onus of proof is on the user to justify and prove, by the qualification of the system, that the instrument is 'fit for purpose' and capable of providing the required accuracy and precision of data.
Essentially, the decision is made by comparing the measured values with the certified values of the Reference(s), to determine the error (bias) for the parameter being tested. If that bias is less than the tolerance allowed for that parameter, the instrument can be judged to be compliant.
Now available from Rowe Scientific, Starna produce a range of reference materials to help you to this end
UV-Visible spectroscopy is one of the most widely used instrumental techniques in analytical chemistry, especially in the life sciences. As such, it is one of the most regulated, by pharmacopoeias and quality assurance bodies world-wide. Starna supplies the world's widest range of Certified Reference Materials (CRMs) for the qualification of UV-Visible Spectrophotometers to help instrument users achieve compliance – with confidence.
Reference materials for:
Stray Light (Stray Radiant Energy) References
Resolution (Spectral Bandwidth) References
Visible Instrument Qualification Kit
Absorbance References
Wavelength References
Visible spectroscopy Instruments for use in the visible region only, are less subject to regulation than those used in the UV. Good practice, however, requires that they are also qualified to ensure that they are performing correctly. Starna supplies a range of Certified Reference Materials for use in the visible region.
Reference materials for:
Visible Instrument Qualification Kit
Absorbance References
Wavelength References

Cuvette Cells
Type 1. Macro/Standard Rectangular with lid, and Reduced Volume with lid.
Open top, with non-sealing PTFE cover.
Polyethylene vaned lid available on request for 10mm cells only, providing a liquid-tight seal.
Two polished windows.
Walls polished internally, fine ground externally.
Suitable for use with all standard cell holders.
Type 1/B has black side walls.
Type1/10/CD thick base, reduced sample for CD.