Rowe Scientific offers the Charm Sciences novaLUM II-X system for rapid ATP (adenosine triphosphate) detection. Used with PocketSwab Plus, verification of surface hygiene is achieved in only 5 seconds. PocketSwab Plus detects even the lowest levels of ATP, minimising the risk of product recalls, reduced shelf life and cross contamination.
Increase efficiency, remove the guesswork, view the invisible.
EASY – any operator can run a test with minimal training
HACCP-compliant – novaLINK 5 software for data management
FAST – real time results in 5 seconds for immediate corrective action
SPACE SAVING – PocketSwab Plus is room temperature-stable
Used by food and beverage manufacturers, pharma and healthcare industries alike, PocketSwab Plus provides an objective tool for hygiene monitoring. PocketSwab Plus rapidly verifies a surface is clean so that operators can confidently proceed with their work safely, or immediately implement corrective action. Contact your Rowe Account Manager for more information and to schedule an obligation-free demonstration.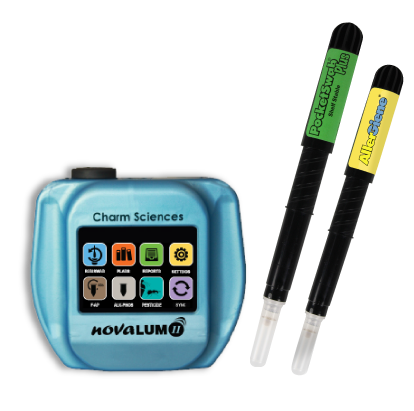 Let Charm novaLUM II-X make the invisible visible.
Charm Sciences novaLUM II-X can verify and document high-touch surface cleaning effectiveness in just 5 seconds.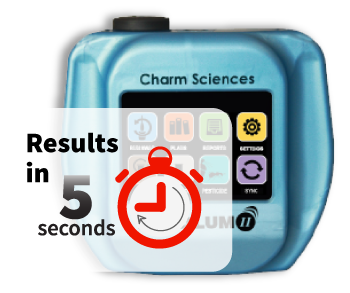 Look no further than Charm novaLUM II-X ATP Detection System for verification of your cleaning.
Real time verification of cleaning – fix now before it's too late.
Detection of ATP within microbial biofilms with Charm's unique swab chemistry
Pre-delivery programming of the novaLUM II-X with your site-specific sampling plan
Room temperature-stable PocketSwab. Used with the novaLUM II-X, your result in 5 seconds
Audit-compliant (>16,000 stored readings, Re-test option, Swab site location)
Advanced sensitivity
PocketSwabs™ are room temperature stable
Free software and audit compliant
Safe and easy to use
Sodium Azide free swabs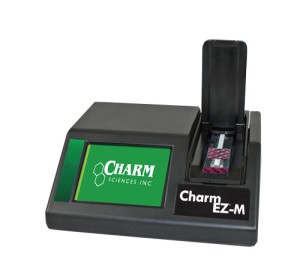 Charm EZ-M System
Rapid mycotoxin testing in feed and grain for ROSA® Lateral Flow Strip Technology
GC0173
Since testing with the EZ-M is both rapid and easy, it can be performed at the point of receiving, eliminating testing in a laboratory setting. Facilities can perform real-time analysis on raw ingredients as part of acceptance testing.
Facilities do not need to accept untested materials that may contain unacceptable levels of mycotoxins. By screening grains as they are received, food manufacturers can be assured that raw materials are of an acceptable quality.
Do you test for Mycotoxins in your raw materials?
Do you wait for days to receive your test results from an
external laboratory?
Are you looking for fast and accurate results?
Run any ROSA Mycotoxin Test. Simply pipette diluted extract on to the Charm ROSA strip, incubate, and read results on the EZ-M.
Test Families:
Aflatoxin
Fumonisin
Ochratoxin
T2/HT2
Zearalenone
Test Types:
Qualitative (Positive/Negative): Determines the presence or absence of the mycotoxin.
Quantitative: Accurately determines mycotoxin concentration.
FAST Quantitative: Test results in 3 or 5 minutes.
WET™ Quantitative: Water is used for the extraction solvent,not ethanol or methanol. This enables negative tests to be discarded in regular waste.

Fast Alkaline Phosphatase Test
The F-AP Fast Alkaline Phosphatase Test (F-AP) is the fastest phosphatase method available to verify the effectiveness of pasteurization. This simple one step procedure requires no reagent preparation and delivers results in just 45 seconds.




Alkaline Phosphatase is a natural enzyme present in milk that is destroyed by conventional pasteurization. This makes Alkaline Phosphatase an excellent marker to verify the destruction of pathogenic microorganisms in HTST pasteurized dairy products.





With detection at levels as low as 20 mU/L, well below established US and EU regulatory thresholds of 350 mU/L, F-AP provides an early warning indicator of improper pasteurization. F-AP is approved for use by US National Conference of Interstate Milk Shipments (NCIMS), and New Zealand Ministry of Agriculture and Forestry (MAF). All Australian states have also approved the method being used in accordance with manufacturer's instructions to undertake phosphatase testing to assess the effectiveness of pasteurization for liquid milk products.
Benefits of F-AP Test Include:
Results in 45 seconds
All-in-one reagents
Room temperature incubation
Calculation of alkaline phosphatase concentration
Detection Limit: 20 mU/L (approximately 0.002% raw milk)
NCIMS, MAF and approvals across all Australian states.
Click below to find out more about Charms novaLUM II and Swabs.

novaLUM II
Advance sensitivity
The novaLUM® II ATP detection system utilises a technologically advanced photomultiplier tube (PMT) that is more sensitive to ATP (adenosine triphosphate) presence allowing detection of lower levels of microbial and organic matter contamination. This is a distinct advantage over systems that use less sensitive PMTs or photodiodes. The novaLUM II system's PMT has low noise, a greater dynamic range, a faster response time and accuracy over a wider temperature range.
Cost Effective Speed
A high-speed data processor allows a quicker 5 second read time. Risks can be assessed immediately, corrective actions expedited, and production started with confidence. Reduce testing time by as much as 83% compared to other systems.
Audit Compliant
Meet internal and 3rd party audits with novaLUM II ATP detection system's Swab Site Location, Re-test option, and a variety of other customisable features to comply with HACCP and GFSI documentation. The novaLUM II system even identifies areas that have not been re-cleaned and/or re-tested. Charm provides calibration documentation, ATP standards, comprehensive on-site trainings, and certification to meet individual requirements.

Auditors look favourably on documented random sampling and corrective action plans within ATP monitoring programs. The novaLUM II ATP detection system eliminates subjectivity by directing operators to swab randomly selected sampling points from within their pre-programmed sampling plans.
Improved Data Analytics
The novaLUM II system has improved onboard data analysis tools. This includes the ability to search historical results and add corrective action results and to generate graphs for rapid analysis of Pass/Fail percentages for key areas of the plant. With built-in wireless connectivity these graphs can be emailed to key managers immediately after test has been completed.
novaLUM II X - ATP detection system.





Quick swab insertion

No lids or latches

USB or WIFI

Faster data transfer

Rechargable / replaceable battery

9 hour run-time

Touch screen

Extremely easy menu selection

Ergonomic design

A durable molded casing allows for fast texting-like operation

High resolution display

Backlit, sunlight-readable alphanumeric display

Temperature probe / battery recharge port

Water proof port
PocketSwab Plus Swab
PocketSwab Plus ATP Swab
for Surface Hygiene Verification
The PocketSwab® Plus ATP (adenosine triphosphate) swab is a room-temperature stable, self-contained, single use test that enables total surface hygiene verification in only 5 seconds, allowing real-time corrective action.
This high sensitivity swab is relied on for cleaning validation, prevention of cross contamination, infection control, HACCP audits and enforcement across multiple industries.
PocketSwab Plus ATP Swab:
Results in 5 seconds
Enhanced sensitivity to ATP
Room temperature stable with 12-month shelf life, reducing freight costs with bulk packaging
Recyclable components.

PocketSwab simple procedure.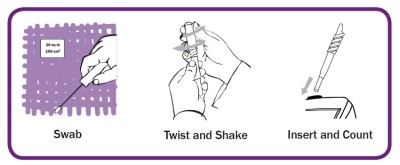 AllerGiene Swab
AllerGiene Swab for allergen control
The AllerGiene® ATP Swab is a simple 20-second test with super sensitivity to allergenic food residues that achieves detection comparable to specific allergen methods. The AllerGiene swab can be implemented into HARCP programs, helping manufacturers prevent allergen cross-contamination by immediately verifying the cleaning and removal of food residues from shared processing lines.
AlerGiene ATP Swab:
AllerGiene simple procedure.

WaterGiene Swab
WaterGiene Swab for water quality
WaterGiene ATP Swab is a simple 20-second test with enhanced sensitivity measuring total ATP (adenosine triphosphate) in water and on wet surfaces. ATP presence is an indicator of microorganisms, plant, animal, or food material, and other biologicals. The sensitive WaterGiene swab is sutiable for testing Purified Water Systems, food processing plants, and Hospitals.
WaterGiene ATP Swab:
WaterGiene simple procedure.

FieldSwab Swab
FieldSwab Swab for outdoor use
The Charm® FieldSwab® is a room temperature stable hygiene swab that rapidly detects ATP (adenosine triphosphate) as a measure of surface cleanliness. The FieldSwab is uniquely engineered to allow food safety programs to be implemented outdoors in "field" type applications or environments. Examples of outdoor applications for the FieldSwab are truck wash stations, cooling tower waters, worker hygiene compliance, and fresh-cut produce where water bio-quality, harvesting, transportation and storage equipment are monitored in just 30 seconds.
The FieldSwab is easily integrated with Good Agricultural Practices (GAP) programs, and has complete data tracking for food safety audits and trace back. ATP is present in all microbes and organic debris, which makes it an excellent indicator of surface hygiene. The FieldSwab complements the ATP based PocketSwab Plus which is used extensively by the food industry in processing and packing facilities.
FieldsSwab:
FieldSwab simple procedure.