Specialised range of gloves and accessories to protect operators working with liquid nitrogen and cryogenic liquids.
Extended insulation from the cold
Waterproof while still delivering flexibility and dexterity
Manufactured of composite materials that remain unaffected by contact (immersion) in cryogenic liquids
The Porelle® internal membrane keeps your hands dry and comfortable.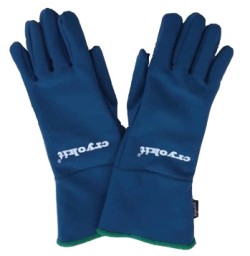 CRYOKIT 400-550 are available in sizes 6 -11, in either the standard 400mm or longer 550mm lengths.
Suitable for all work in the presence of liquid nitrogen and other cryogenic liquids. Protects from cold contact and prevents burns in case of leakage of liquids.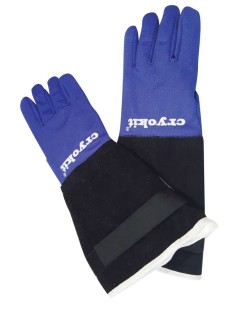 The glove is made entirely with a special composite fabric coupled with a waterproof polyolefin Porelle® membrane.
Available in four different lengths: Standard 380mm and 450mm sizes 7-11; and with longer glove lengths of 450mm and 550mm in sizes 8-11.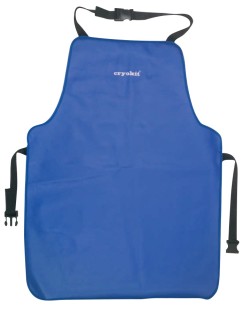 Made of a special extra resistant composite coated fabric, with adjustable clip buckles at both collar and waist.
Standard size at 700 x 900mm, also available in lengths of 1100, 1200 and 1350mm..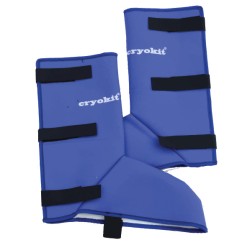 This overshoe is made entirely of a special composite coated, water resistant fabric. Designed to be worn over shoes with a universal fitting for any application. Incorporates polyester velcro lace system for ease of use.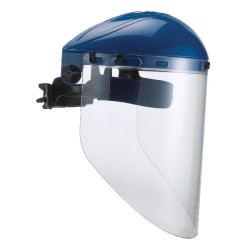 Specifically designed to protect the face, the front of the head and neck from liquid splashes, drops and sprays. Made with specially designed polycarbonate face screen, 90 degree tilting head band and adjustable head circumference. Suitable for prolonged use due to its ergonomic design, with a clear distortion free lens.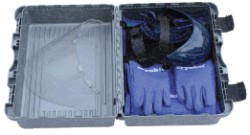 CRYOKIT 400 size 9 gloves*
CLEAR-CRYO face shield
GHETTE CRYO protective overshoes
T-CRYO LITE apron size 700x900mm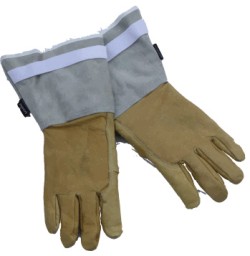 Fully waterproof glove to protect the hand and forearm in operations that involve the use of liquid nitrogen (or other cryogenic liquid) as well as high heat. Made with materials specifically designed to keep the hands warm and dry for prolonged usage, the multilayered construction provides a high level of thermal protection, flexibility and dexterity from -200 °C to 250 °C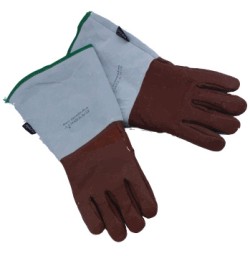 Manufactured from water repellent grain leather (1.2mm) suitable for heavy duty industrial usage. The internal insulation consists of a polyester fleece (320g/sqm) coupled with a waterproof polyolefin Porelle® membrane. Overall glove length is 380mm with an inbuilt split leather safety cuff. Flexibility tested after contact with liquid nitrogen for 1 minute.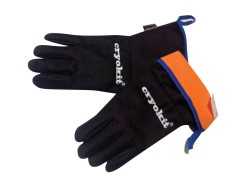 Made with a special black coloured elastic and waterproof fabric, coupled with an internal insulation of a polyolefin Porelle® membrane. Suitable for food contact. Overall glove length is 300mm with an inbuilt safety cuff.